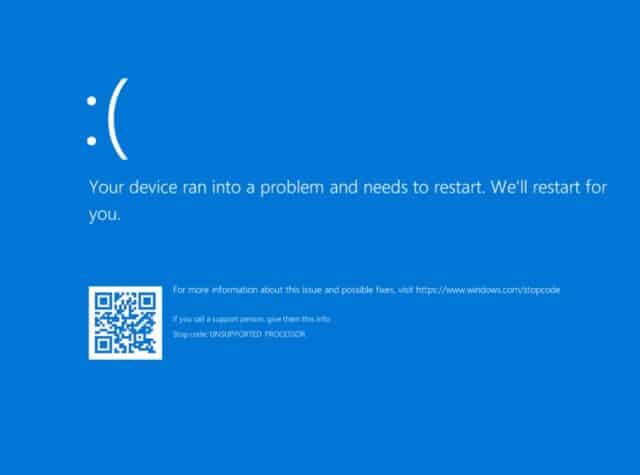 It is now a couple of weeks since a Windows 11 update resulted in a large number of people suddenly seeing UNSUPPORTED_PROCESSOR error messages.
At the time, the finger of blame was pointed at Microsoft, although the company was quick to suggest that the fault may be elsewhere. With the issue affecting MSI motherboards, the hardware manufacturer offered up a workaround. Now MSI has released a BIOS update that properly fixes the problem for Intel 700 and 600 series boards.
See also:
MSI says that it has been working closely with Intel to discover the cause of the issue. Following a joint investigation between the two companies, MSI says that the UNSUPPORTED_PROCESSOR BSoD is limited to certain builds of Windows 10 and Windows 11 running on an 13th Gen Intel Core i9 processor. The error message is caused by a firmware setting of Intel Hybrid Architecture.
The problem affects Windows 10 22H2 (OS Build 19045.3393) with the KB5029331 update installed, Windows 11 22H1 (OS Build 22000.2360) with the KB5029332 update installed, and Windows 11 22H2 (OS Build 2221.2215) with the KB5029351 update installed.
Releasing a BIOS update to address the issue, MSI says:
The new BIOS coming will include an update on the Intel CPU uCode which will prevent any more messages regarding the "UNSUPPORTED_PROCESSOR" issues. This upcoming update will correspond to both 13th-generation and newer ones. There will be more BIOS available to download on MSI's official website for all Intel 700 and 600 Series models this week and all BIOS release will be available by the end of September.
The company also provides a list of BIOS update downloads:  
MEG Z790 ACE – Link
MPG Z790 CARBON WIFI – Link
MPG Z790 EDGE WIFI – Link
MAG Z790 TOMAHAWK WIFI –  Link
PRO Z790-A WIFI – Link
PRO Z790-P WIFI – Link
PRO Z790-P – Link
PRO Z690-A WIFI – Link
PRO Z690-A – Link