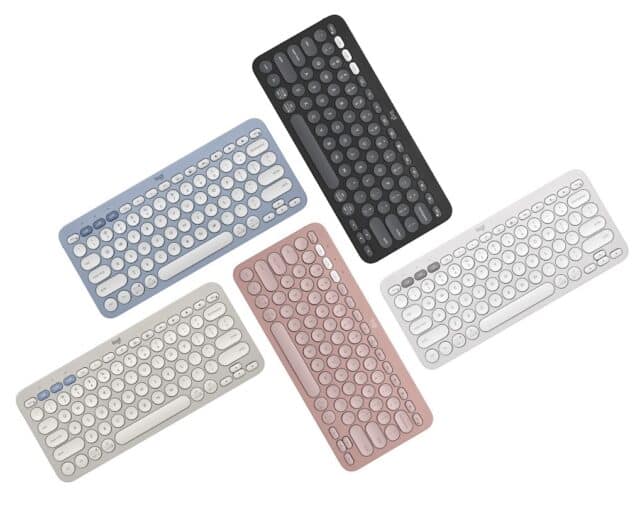 Today, Logitech unveils the Pebble 2 Combo keyboard and mouse that seamlessly blends form and function. Not only is this combination beautiful, but it is quite affordable too.
This combo is available in five colors: Tonal Graphite, Tonal White, Tonal Rose, Tonal Sand, and Tonal Blue. With a minimalist design, both the Pebble Keys 2 K380s keyboard and the Pebble Mouse 2 M350s make a subtle yet strong style statement. Plus, they are crafted from recycled plastic.

For the Apple users out there, Logitech also offers the Pebble 2 Combo for Mac. This variant features the Pebble Keys 2 K380s for Mac keyboard and Pebble Mouse 2 M350s for Mac mouse. Designed to complement your Apple setup, this version comes in three colors and ensures seamless operation across Apple devices. Like its universal counterpart, it's lightweight, compact, and crafted from recycled plastic.

Customization is straightforward with the Logi Options+ app, allowing users to easily tailor function keys and mouse buttons to fit individual needs. In addition, the combo is designed for quiet operation. The mouse significantly reduces click noise by 90 percent, and the keyboard offers a soft, laptop-like typing experience.

The Easy-Switch button enables users to effortlessly toggle between up to three devices across multiple operating systems. In terms of portability, both the keyboard and mouse are lightweight and have substantial battery lives: three years for the keyboard and two for the mouse.

The product is not only visually appealing but also eco-conscious. The packaging is responsibly sourced, and a minimum of 49 percent post-consumer recycled plastic is used in the devices. For those interested in the dimensions, the keyboard is 16 x 279 x 124 mm and weighs 415 g, while the mouse is 26.2 x 58.7 x 106.7 mm and 76 g. Their wireless range extends up to 10 meters.

The Pebble 2 Combo offers an optimal blend of style, functionality, and sustainability for $59.99. It will be available later this month at Amazon here, providing an excellent opportunity to upgrade your workspace.
Please note: Some of the above links may be affiliate links, meaning we, or our writers, may receive payment if you purchase one of these items (or other items) after clicking on them.